We are explorers which turn needs into never seen sustainable products.
We help our clients to anticipate trends which lead to experiences that people love and our planet welcomes.
Like it or not, new ideas don't arise going by the book.
We are conscious that the main insights come from our client's experience in the industry.
 

We use this starting point to apply our pragmatic, no frills approach, to identify the best innovative, desirable and sustainable design solution.
The outcome of our work is a real world sustainable design solution we co-create, co-prototype and co-assess with our client. We are there from day zero to the end of the project, with all the grit and resilience needed to help transform a need into a solution of which impact can be tracked and measured.
We support our clients throughout the sustainable product design and branding process using the expertise of accomplished professionals in the industry
Sustainable Product Concept Development
Real world observation, trend analysis, customer needs analysis
Sustainable design concept generation & selection
Product Value Optimization (reshape products and portfolios)
Creative direction
Communication Consulting
Coaching and training for actionable human centered storytelling
Support for advertising tactics and creative execution
Prototyping and Sampling
In-house digital model prototyping capabilities
In-house physical model prototyping capabilities (FDM, STL, SLS)
Tessellation and population (digital surface tessellation and population)
Material sample collection and organization
Low Impact Color, Material and Finish (LI-CMF)
Product color palette creation (HintLabs proprietary process)
Colour, material, finishing digital pre-visualization
Color measurement and cross media color matching (product>screen>paper)
Surface/Product color matching on paper support through a HintLabs proprietary process (97% fidelity index on most problematic metameric colors
Project specific supplier evaluation and appraisal (assessment is undertaken exclusively onsite by our team members)
Material and New Technologies R & D
Low impact Layer by Layer deposition augmented noble materials
Low impact mineral pigments coatings selection and/or creation
Database of "realistically" available recycled materials created from food, electrical, plastic, carbon fibre and textile waste.  
"We do not inherit the earth from our ancestors, we borrow it from our children"
– Indian Proverb
Sustainiability is our core value.
All our solutions propose experiences, services and products which are aimed to reduce environmental footprint and resource dependency, to minimize waste and to provide increased income to our clients.
We believe that increased prosperity and a shift from linear to circular economy is possible: we thrive to build it with our everyday work and effort.
The concept of sustainable manufacturing practices and materials has caused significant changes within the market over the past decade. Advances in technology have fostered a continuous evolution for materials in an effort to lighten the environmental footprint.
An essential part of our work is keeping up to date on the latest advancements in materials and the manufacturing processes, aiming to reduce a negative impact on this planet we call home.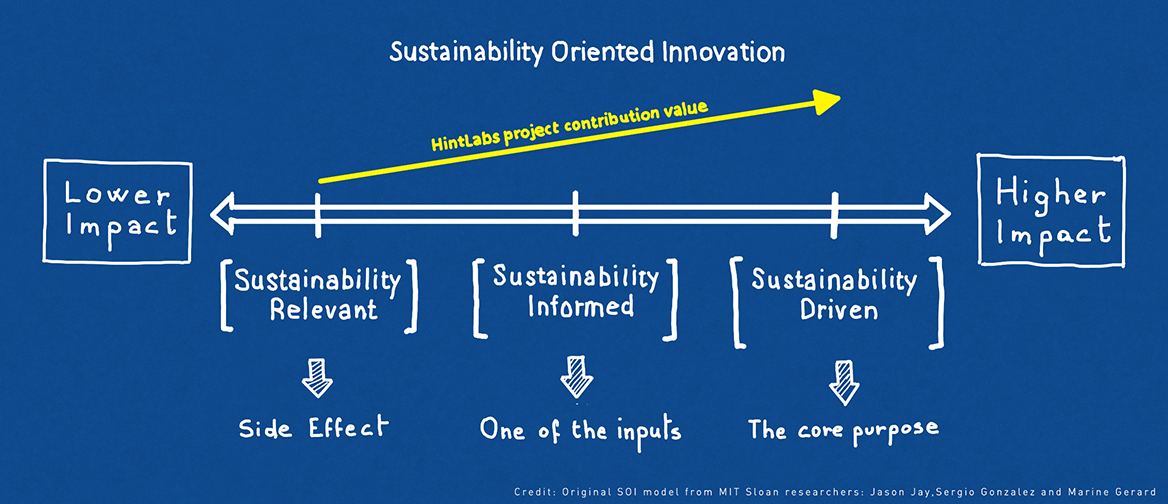 HintLabs is a boutique consultancy specialized in proposing sustainable innovative design concepts and ideas to improve and innovate physical products which regroup aesthetic and functional attributes.
We operate in the high-end consumer durables industry and offer a collective intelligence model with a project-based team composed by the best industry segment specialists. 
We are here to stay.
We are no "hit and run" consultants: our measure of success
is a partnership to solve the future challenges of our clients.
We get our hands dirty. Always.
Registered Office Headquarters
C
hemin de Roilbot 3C
1292 Chambesy
Switzerland
 Clients Data Safety. Due to sensitive information exchange with the industry, at HintLabs we use the safest end-to-end encryption e-mail available on the market, with servers based EXCLUSIVELY in Switzerland and protected by strict Swiss privacy laws. Moreover our website, blog and file exchange servers are also based in Switzerland and protected by the Swiss Federal Data Protection Act ('DPA') and the Swiss Federal Data Protection Ordinance ('DPO'). For your eyes only.